Loved 'Blue Planet'? Discover your very own on the Causeway Coast.
We recently spoke with local aquaholic and marine enthusiast, Karen Patterson, who has kindly agreed to tell us about the diversity of aquamarine life in the waters which surround the Causeway Coast. Karen has been diving in the waters surrounding the Causeway Coast for 6 years and some of the things she has discovered will shock you! She let's us in on the secrets of what's lurking beneath the surface on Northern Ireland's Causeway Coast in this special guest article: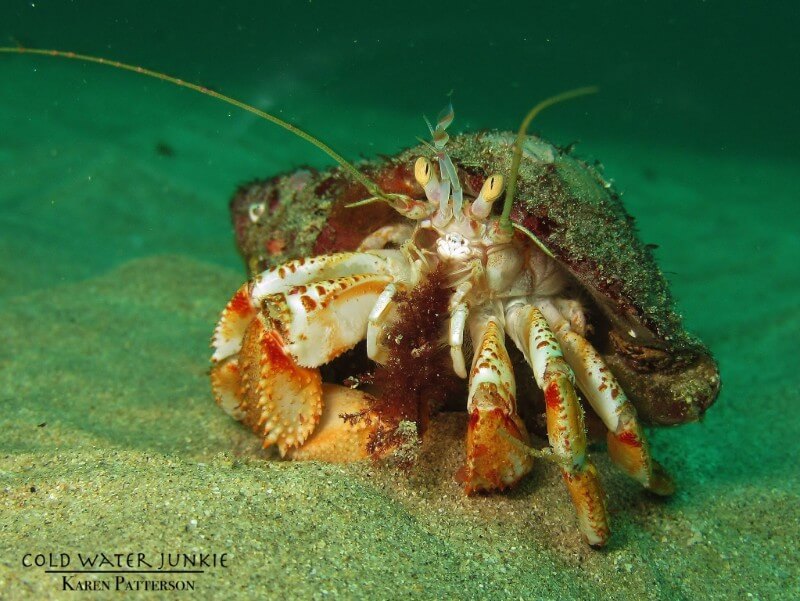 Hermit crab
My name is Karen, and I'm an aquaholic. I'm a diver and a lover of the ocean, but not just the warm, tropical ocean found in far off lands, but my ocean - my Wild Atlantic. In the last 6 years I have dived through waters of blue and green, watched fluorescent yellow and pink corals feed in the current, marvelled at purple, red and orange Pokémon-like sea slugs, listened to the chatter and songs of dolphins as they swam alongside me, and stared into the gaping mouths of shark. All of this without needing to leave our northern shores.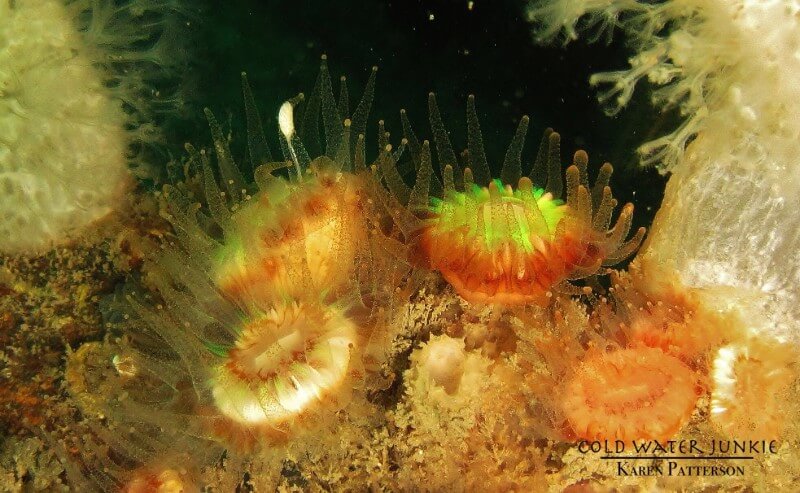 Devonshire cup corals on the wreck of the Lochgarry, Rathlin
So many believe that they know our Atlantic, that it is a cold, dark and baron place. That couldn't be further from the truth. There's no denying that the water is cold, but with that comes an abundance of life, particularly on the shores of Rathlin. In fact, some of our marine species and habitats are so unique that four marine conservation zones have been designated to protect them, two of which can be found on the Causeway Coast.
I've been fortunate enough to learn how to dive on the Causeway Coast. For visitors, diving, either from shore or boat, couldn't be easier. Regular boat trips to Rathlin and the surrounding area are offered by Aquaholics from Ballycastle. With the wreck of the Lochgarry on Rathlin's eastern shore (resting at 32 meters, so accessible to recreational divers) and the rich biodiversity on Rathlin's north wall (which drops away to more than 200 meters), dives will satisfy both the wreck and marine life enthusiasts. For those more experienced technical divers with a lust for rust and history, the option of world class wreck diving is only a few hours boat ride away from Portstewart on the north coast of Donegal. The waters off Malin Head are the resting place for more German U-boats, ocean liners, Sherman tanks and other WWI and WWII casualties than anywhere else in the world. Perhaps you might find some of the gold bars that went into the depths with their stricken vessels!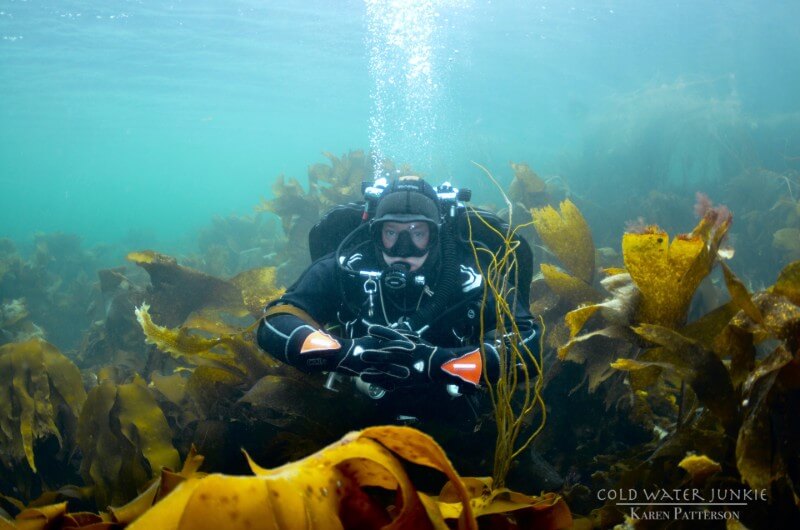 Another diver, shore diving from Dunseverick Harbour
For me, the greatest riches are our marine animals. Often seen as one of the ocean's villains, little else fills me with more wonder and joy than watching one of our jellyfish dance in sunbeams, just below the surface as it is carried along in the current. Or watching a Cat Shark slink along the sea bed, it's big black eyes looking for prey.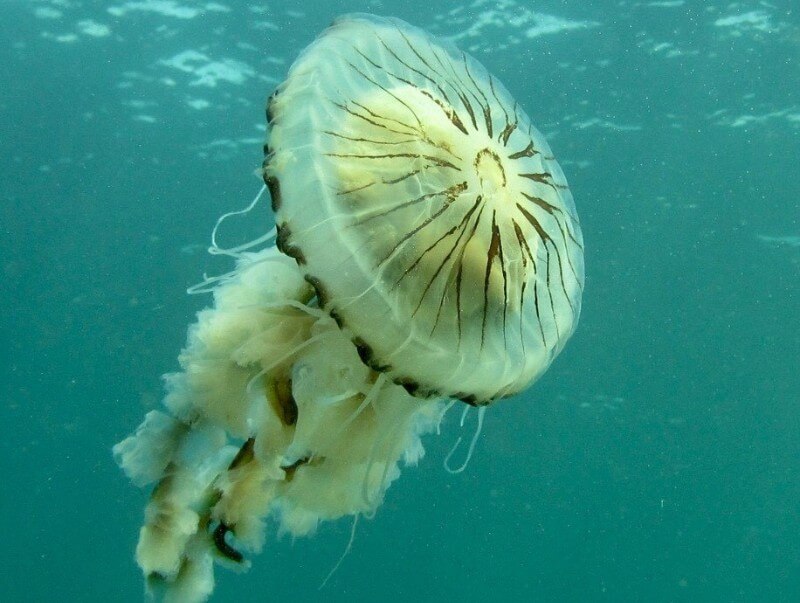 Compass jellyfish off the Causeway Coast
I always wonder what I will see on my next dive. Perhaps it will be a sea bed full of Dahlia anemones, their brightly coloured tentacles extending into the current, waiting to ambush prey. Beautiful and deadly.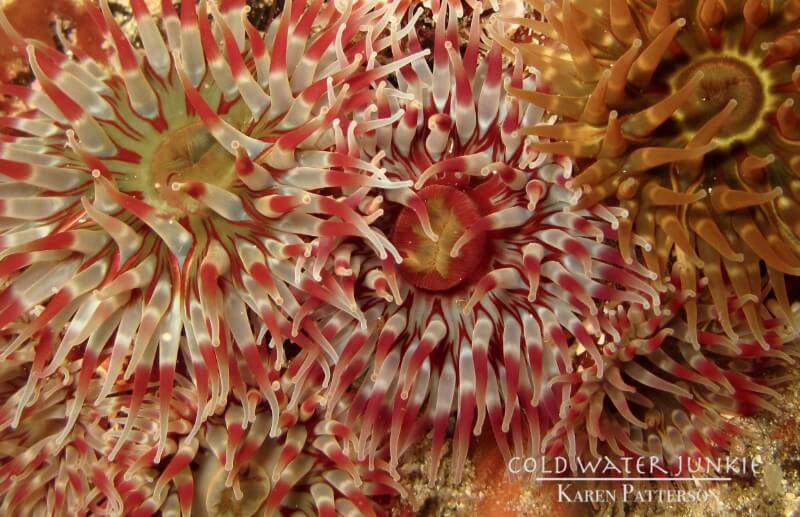 Dahlia anemones, Dunseverick
Perhaps it will be something new, something no one has seen before. These discoveries still happen, even on our shores. The ocean is still largely unexplored and mysterious. I cannot encourage you enough to get out there and explore it, the other 71% of our planet. You don't have to have expensive equipment, just a mask, a snorkel and a sense of adventure.
Even our rock pools in Dunseverick, Portstewart, Portbradden and Ballintoy are filled with wonder. My 3 year old niece has successfully hunted for shark egg cases (mermaid's purse), scorpion fish, Beadlet anemones and prawn. I was as excited as she was!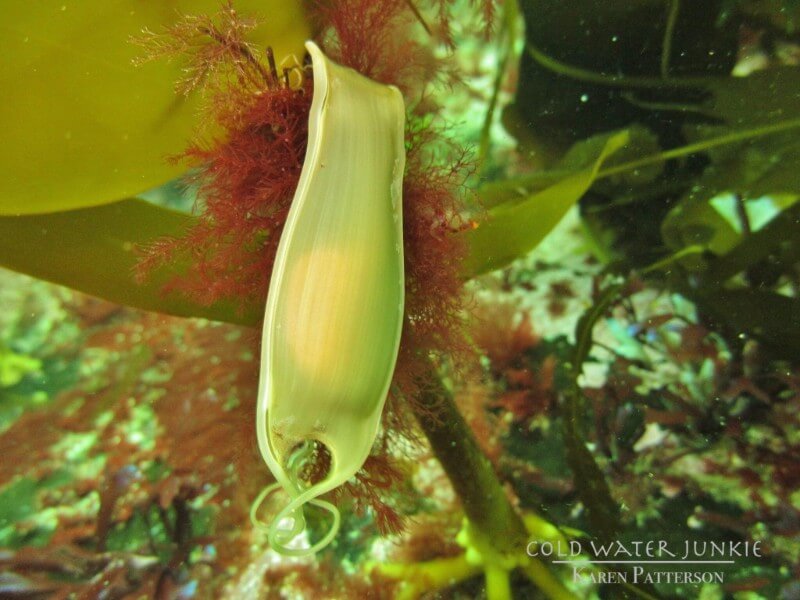 Shark egg case, Rathlin
So I encourage you to explore my ocean, your ocean, our wild Atlantic. Become a cold water junkie! My name is Karen, and I'm an aquaholic.
For more underwater photographs of life on the Causeway Coast please follow @Cold_Water_Junkie on Instagram
---
Have you already booked your next holiday to Ireland? We'd love to see your snaps of the Causeway Coast and Glens so be sure to tag us on Instagram @visitcausewaycoastandglens, and use the hashtag #VisitCauseway
We look forward to welcoming you to Northern Ireland's famous Causeway Coastal Route