Few things in life are as satisfying as enjoying a hot drink by a cosy fireside after a long day's travelling. While you might think this is something people only do during cold winter months, the Irish weather can often leave you with a chill well into spring – especially when you've spent a lot of time outdoors, exploring our stunning landscapes and attractions in rainy or windy weather!
Thankfully, our pubs and restaurants understand the need to provide a toasty little nook to restore warmth to your cheeks, and a hot drink to heat your hands will have you ready for the road again in no time (but be warned – you'll be way too comfortable to get up and leave!)
The Point Bar, Magilligan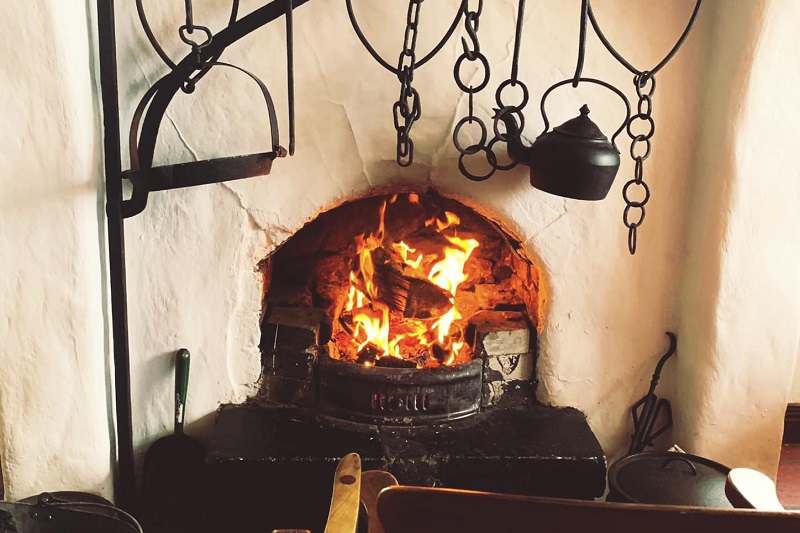 Slurp at seafood chowder and slowly sip at your favourite pint at this incredible restaurant and pub, which is situated right on Magilligan Point Beach. Be sure to take a short dander to see the historic Martello Tower before your meal!

Frank Owens Bar, Limavady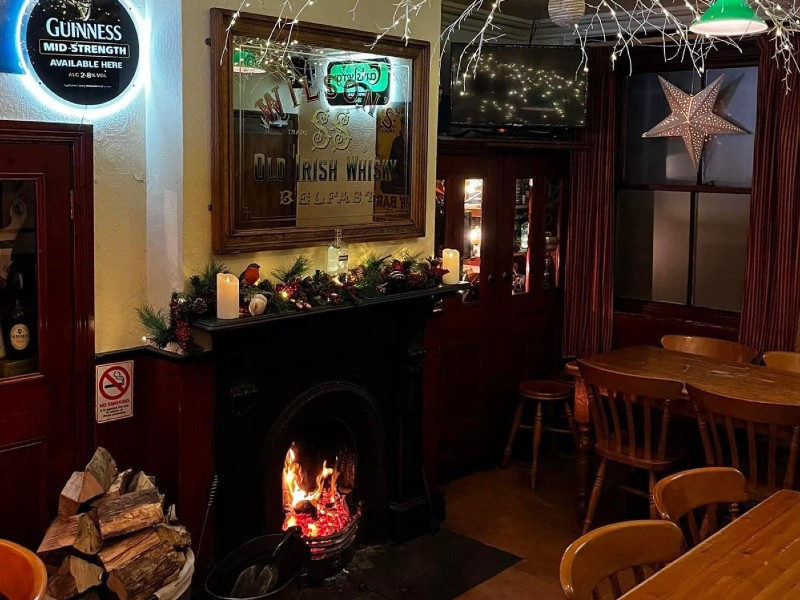 Visitors to Limavady can enjoy a warming fire in one of the cosy rooms at this charming and locally favourited pub. See if you can spot the Game of Thrones® door located within, crafted from the fallen trees of the Dark Hedges during Storm Gertrude in 2016.

The Harbour Bar, Portrush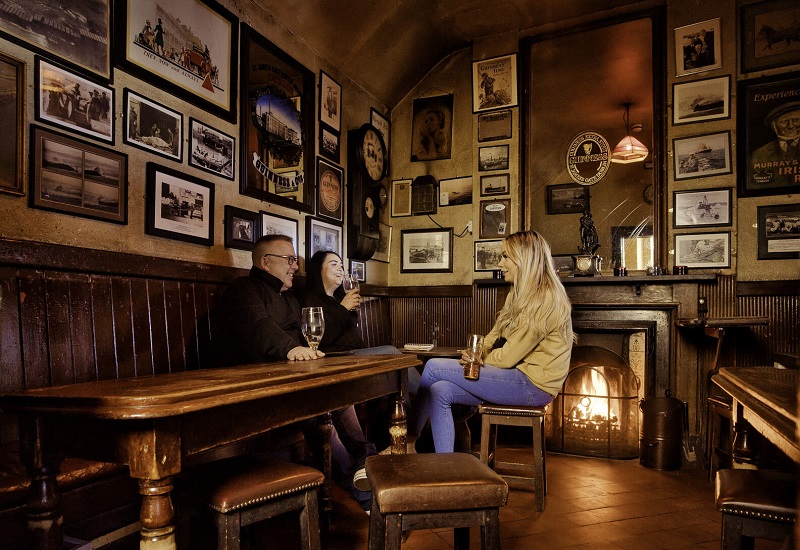 Take in the sights and smells of the sea and listen to the crash of Atlantic waves before seeking shelter in this warm and welcoming pub in Portrush. Once the craic gets going, you'll never want to leave!

Bushmills Inn, Bushmills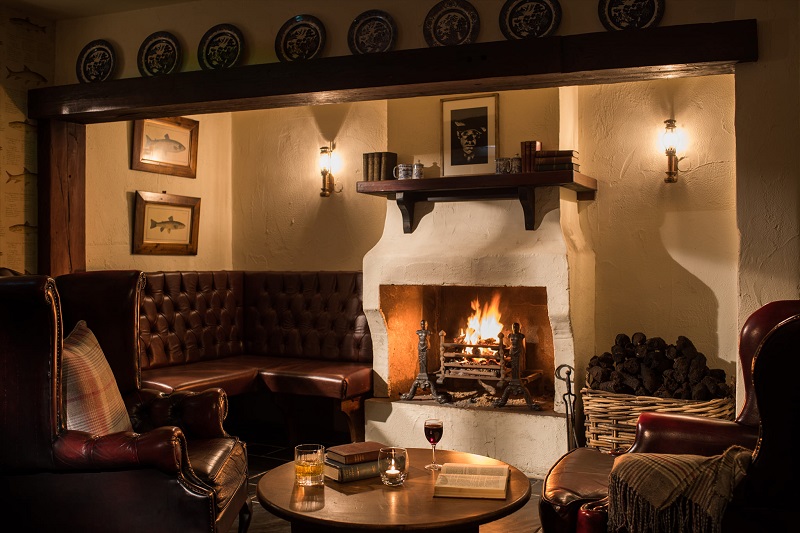 Spoil yourself with a meal or take it one step further by booking an overnight stay in the historical village of Bushmills. A measure of locally made Bushmills Whiskey goes down a treat beside their fireplace after a day of adventuring on the Causeway Coast.

Ponderosa Bar & Restaurant, Dungiven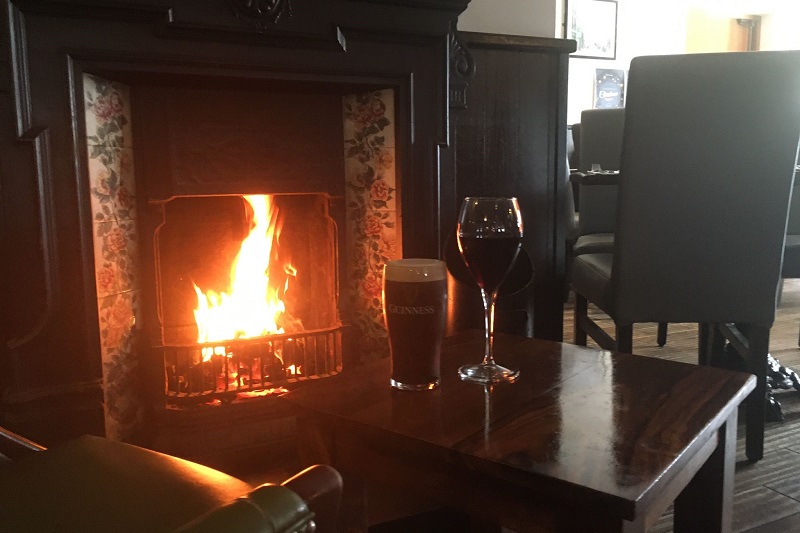 Not only is the Ponderosa Ireland's highest bar and restaurant, it's also a great spot for a quick spot of lunch, an evening meal or a quick pit stop for a drink or coffee. It's particularly cosy in the autumn and winter months when the fire is lit.

The Fullerton Arms, Ballintoy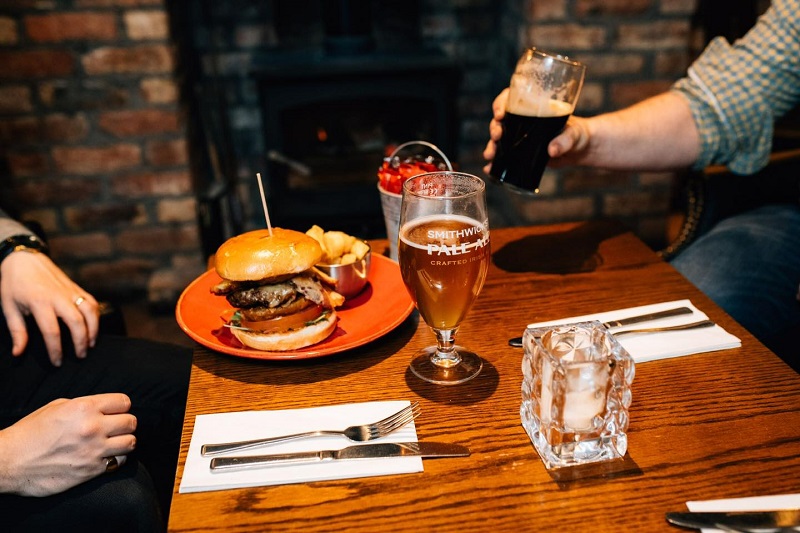 Close to many of the iconic attractions of the Causeway Coast and Glens, such as Carrick-a-rede Rope Bridge and Ballintoy Harbour, you'll find a warm welcome at The Fullerton Arms. You can stay overnight, pop in for food, and you can even bring your dog with you too as they're dog friendly!

The Anchor Bar, Portstewart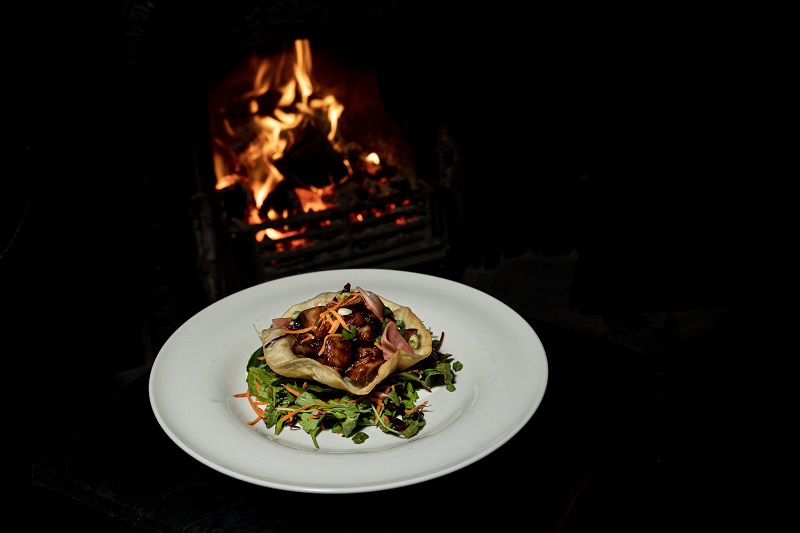 For a lively night out, the Anchor Bar Complex in Portstewart is a great spot for mingling with the locals and sampling a taste of the Causeway Coast nightlife. It's the oldest traditional bar in the area, having been established in 1898. A fire roars in the pub during the winter months, making it an excellent place to heat your hands after a cold day of exploring the seaside town.

Mary McBrides, Cushendun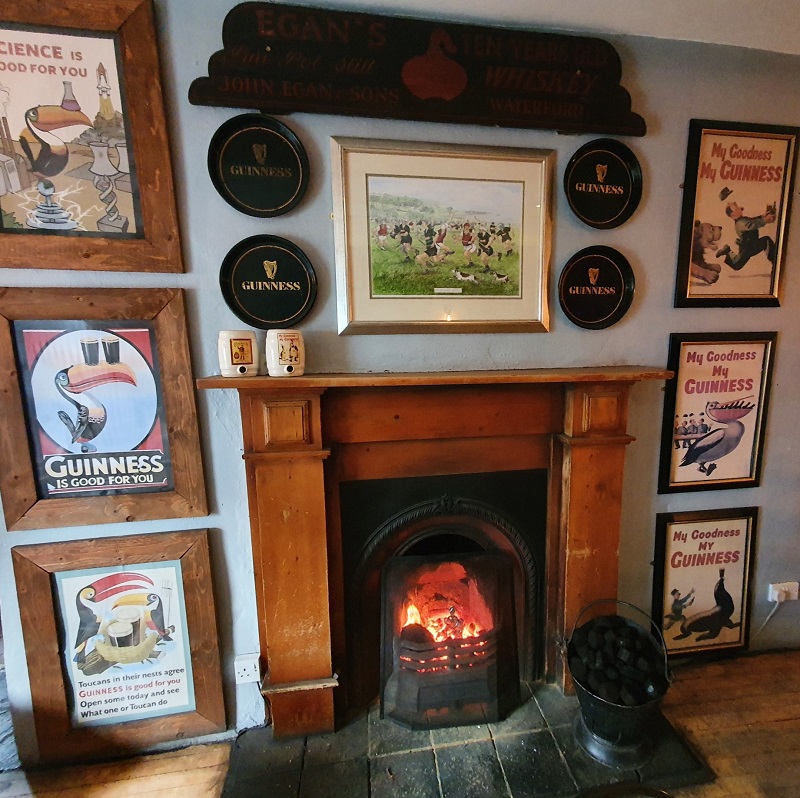 This quaint little spot was once the smallest pub in Ireland, but don't be fooled – it has a big personality! Situated in the idyllic village of Cushendun, Mary McBride's offer food that's hearty and filling. Might we recommend the steak and Guinness pie?

Vibes Bar at The Lodge Hotel, Coleraine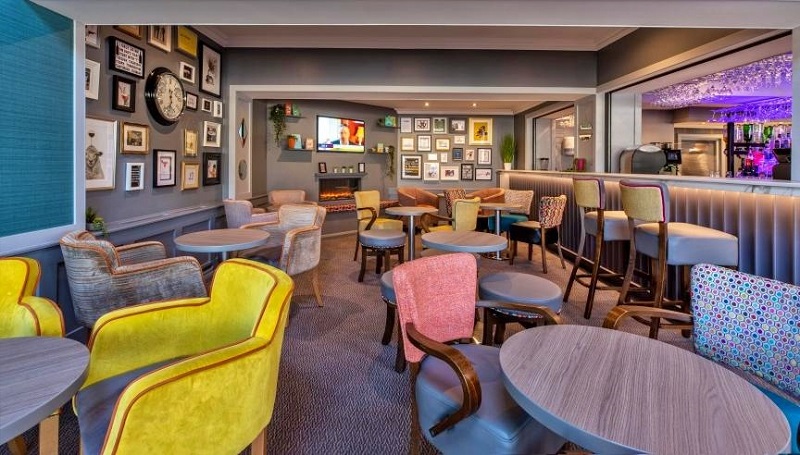 This colourful and trendy bar at The Lodge Hotel is a perfect place to relax after enjoying a delicious meal at the hotel's restaurant or bistro. The fireplace adds a sense of cosiness in a modern interior, while the bright and tasteful décor provides guests with a glamourous surrounding for sipping on cocktails, spirits or soft drinks!

Angler's Rest, Benone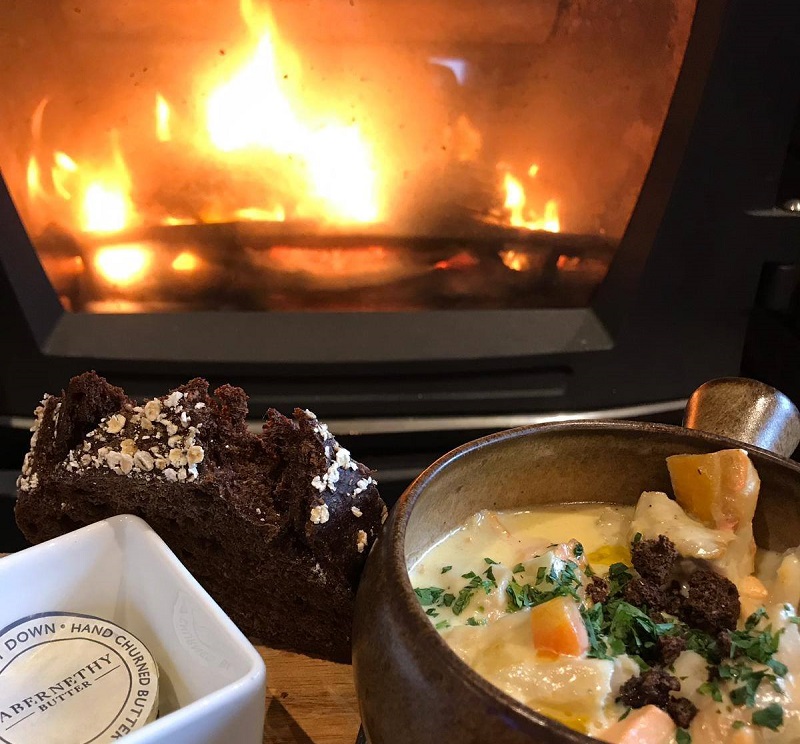 Good food, good pints and good company are all you need to enjoy an evening at this restaurant and pub, but a roaring fire and the surrounding views of Binevenagh – an Area of Outstanding Natural Beauty – certainly add bonus points!

Bayview Hotel, Portballintrae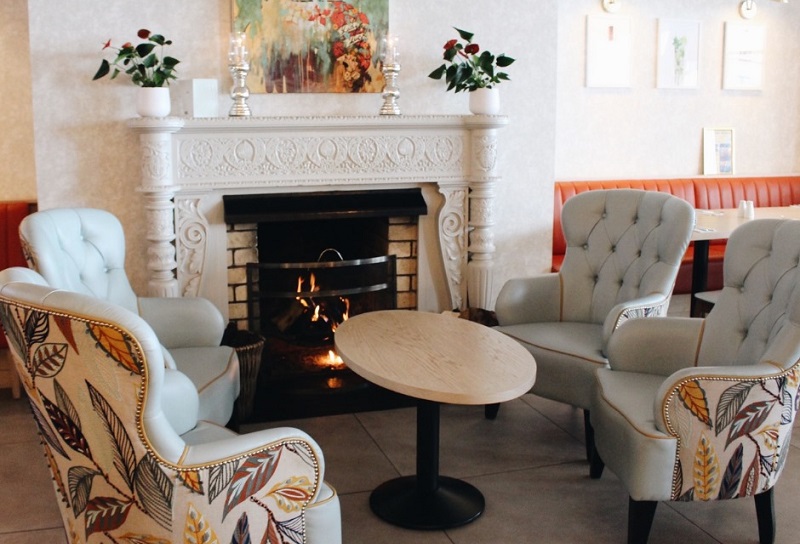 Perfectly located in the seaside village of Portballintrae, the Bayview Hotel is an excellent choice for those seeking quiet refuge in a coastal location, but who also want to be within a short travelling distance of the Causeway Coast and Glens' best-known attractions. The stunning fireside, located in the hotel's elegant bar, will have you wanting to sink into your seat with a cocktail in hand.

House of McDonnell, Ballycastle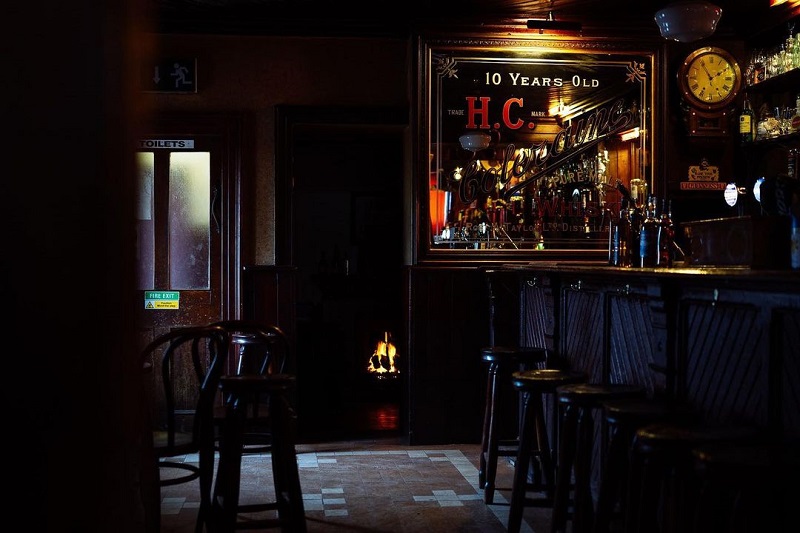 Ballycastle is well known for its choice of friendly pubs and House of McDonnell is no exception. After marvelling at the prettiest beer garden, adorned with twinkling fairy lights, you'll want to head into the pub's back room and get toasty by their fireplace, ready for a night of fun and entertainment with the locals.

Carrick-a-rede Bar & Restaurant, Ballintoy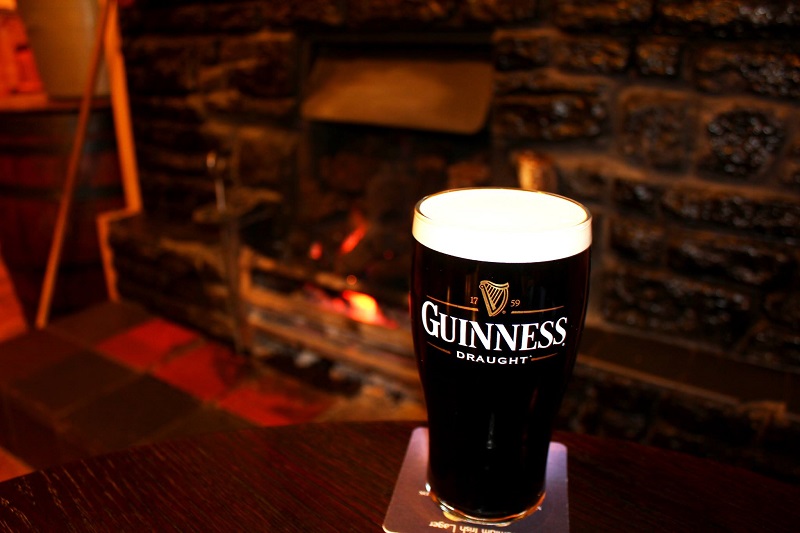 The Carrick-a-rede Bar & Restaurant is a charming establishment situated in the picturesque village of Ballintoy, known for its delicious cuisine and warm hospitality. As the turf burns slowly, its distinct aroma fills the room, creating a sense of nostalgia and comfort. Relax and unwind by the warming fire while enjoying a delicious meal and a well-deserved drink.

Which of these cosy firesides are on your list of stops during your next visit to the Causeway Coast and Glens?