Spring has sprung and Easter break is just around the corner, making it the perfect time to plan a family getaway. If you're looking for inspiration for an eggs-tra special Easter in the Causeway Coast and Glens, then you're in luck.
This stunning coastal region offers a variety of exciting activities that are sure to create unforgettable memories for the whole family. From exhilarating water-based adventures to traditional Easter activities, there's something for everyone. So, pack your bags, grab your loved ones, and get ready for a holiday full of fun and adventure! In this blog post, we'll share our top picks for activities to do during your Easter break in the Causeway Coast and Glens.
Take a fast and thrilling family sea-safari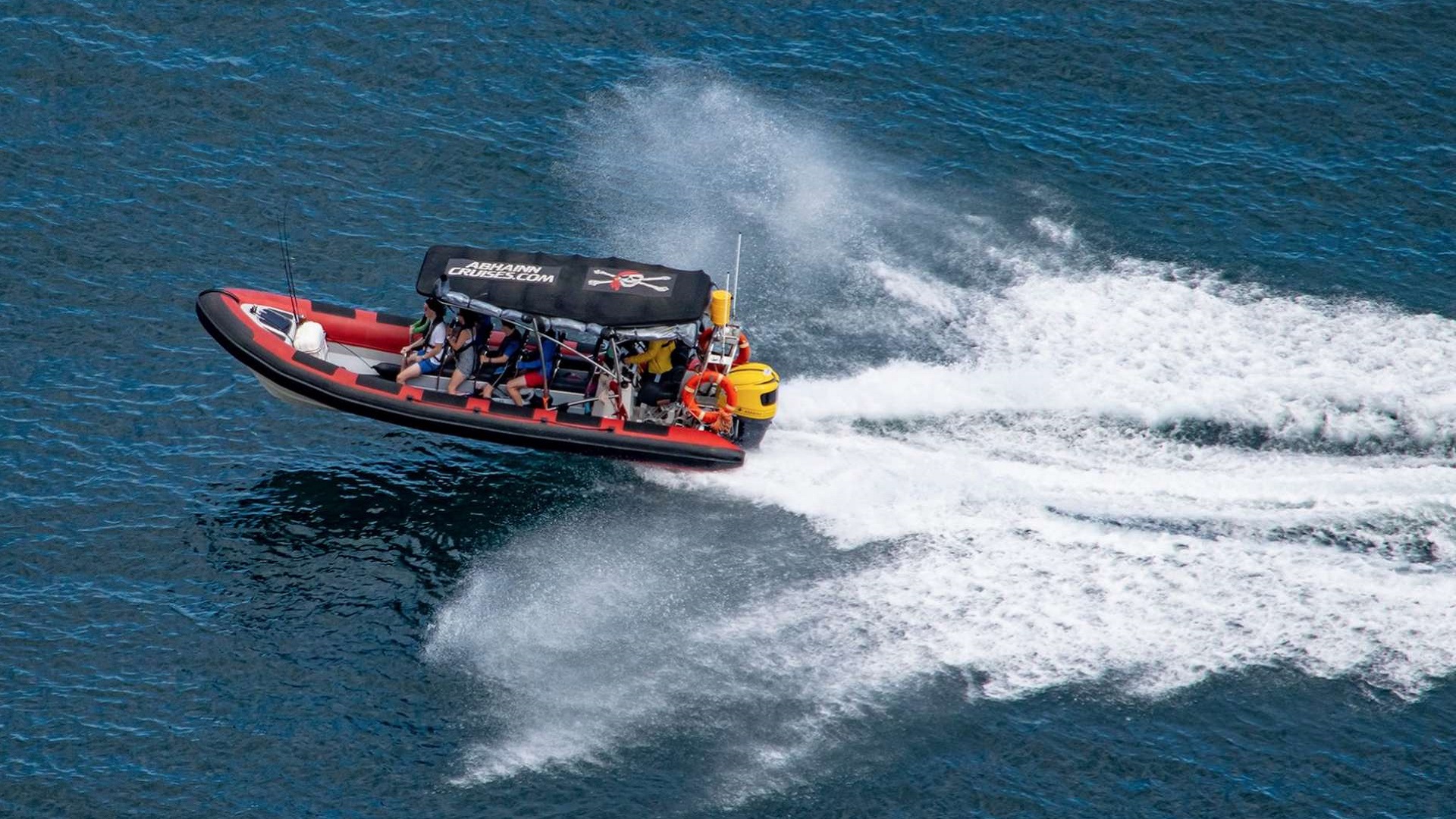 Add some adventure to your Easter break with a thrilling RHIB sea safari from Ballycastle Harbour, courtesy of Abhainn Cruises' expert skippers Tim and Ben. Don't worry about the chilly water - cosy floatation suits will keep you warm and comfortable throughout the ride. Keep your eyes peeled for playful dolphins and other wildlife that call the coast home. This off-the-beaten-track experience will leave you with unforgettable memories and amazing views of the stunning coastline. It's the perfect way to spend a fun-filled day with your family during the holidays.

Conquer the Easter Water Beast at The Lake, Kilrea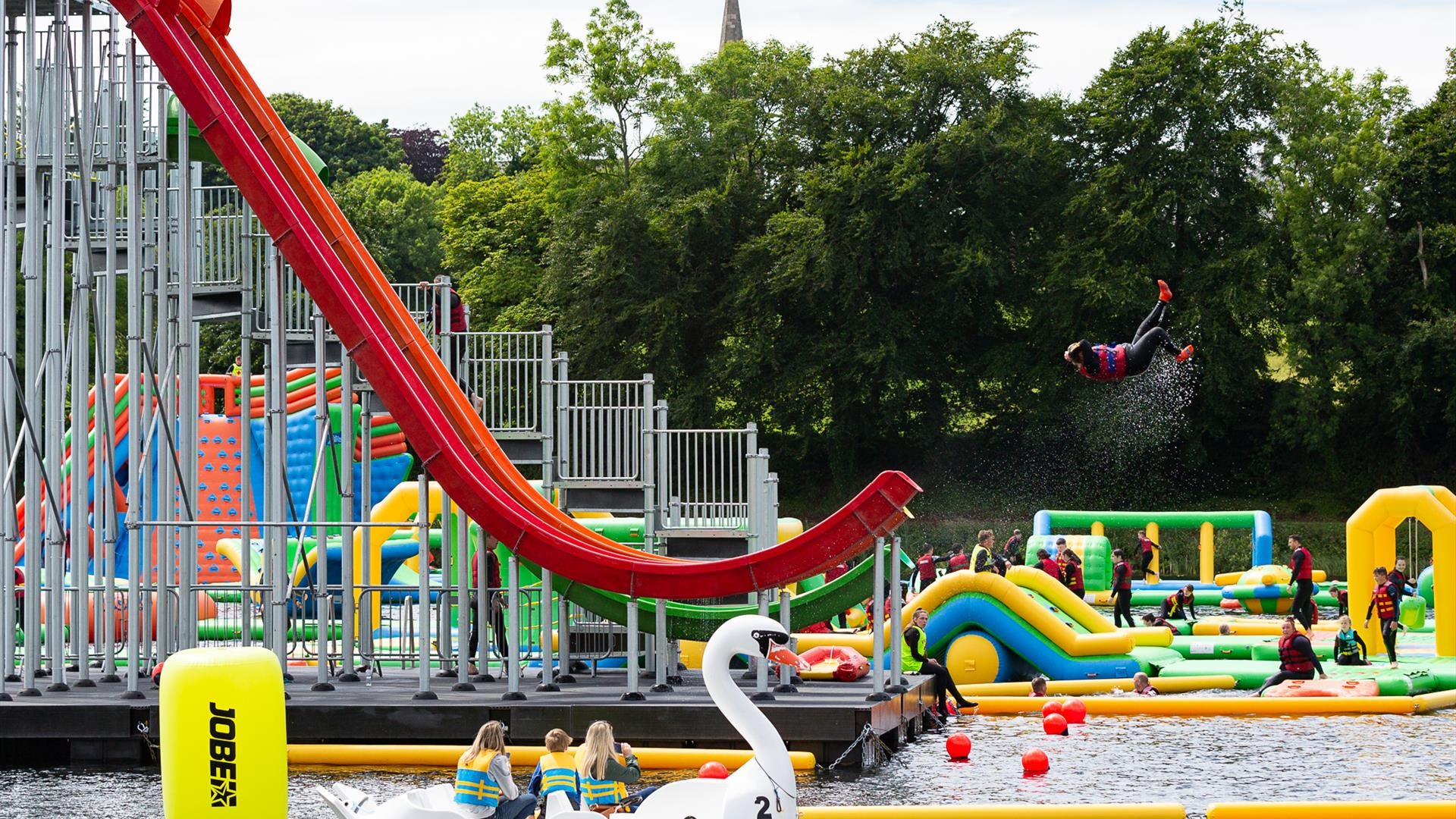 Looking for more water-based thrills for your family this Easter? Look no further than The Lake Kilrea - Ireland's largest waterpark – reopening for Easter on 7th April. Brave the heart-pumping adrenaline rush of 'The Beast', the largest inflatable outdoor waterslide in Ireland, standing over 40ft tall. With three slides on two levels, it's an experience you won't forget. And for the bravest in the family, keep an eye out for the incredible new water park feature for 2023. After the excitement, relax with a bite of lunch together or try the climbing wall or 120m zip line, or simply enjoy a family walk in the beautiful lakeside surroundings.

Share a sea or river exploration on sit-on-top kayaks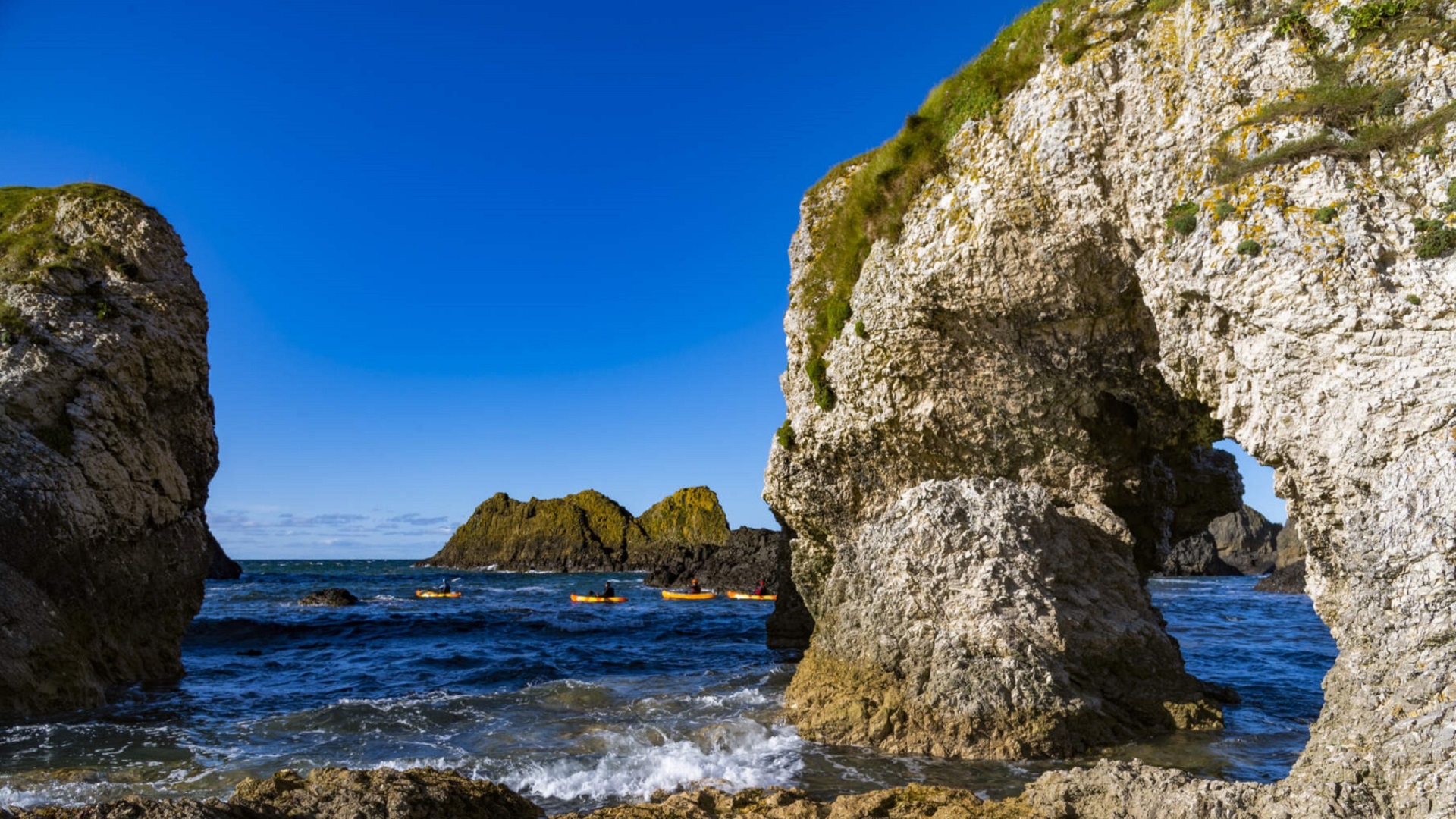 Looking for a more relaxing water experience? Try a family sit-on-top kayak tour with Xplore Outdoors. With expert guidance, you can explore mesmerizing sea arches at Ballintoy, glide under the famous Carrick-a-rede Rope Bridge, paddle along the serene River Bann, or simply soak in the stunning views around White Park Bay. You'll be surrounded by the beauty of springtime and may even spot some curious wildlife along the way.

Admire the views from a stand-up paddleboard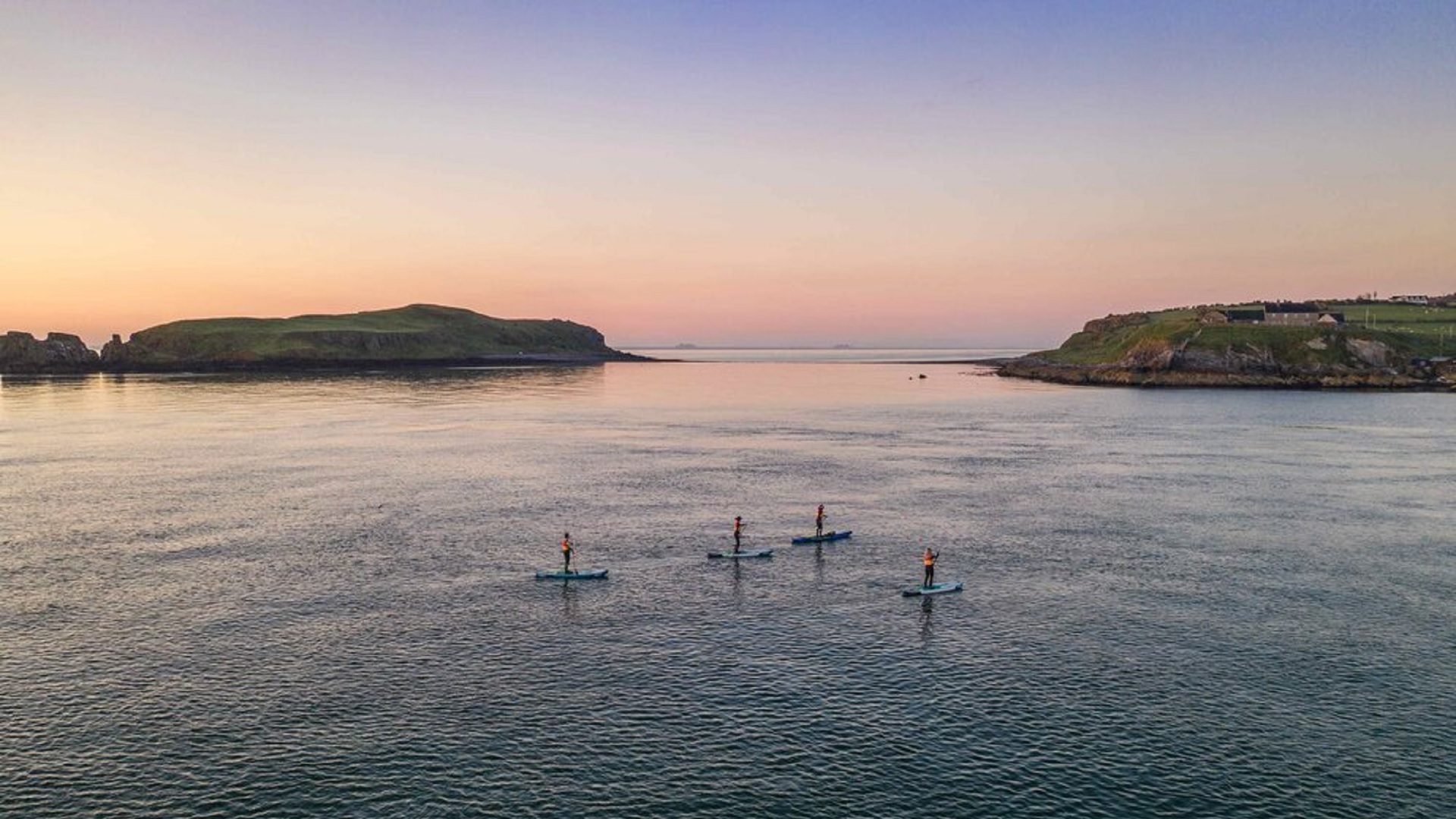 Test your sea legs and try a stand-up paddleboarding (SUP) from Portballintrae this Easter, with the expert guidance of Deborah from Get Up and Get On Paddleboarding. This exciting experience lets you examine the sandy seabeds below you and explore the pretty harbour, all while taking in the stunning coastal views. With plenty of locals and holidaymakers around, the Easter holidays are the perfect time to enjoy this safe and fun activity with your family, in one of the Causeway Coast's most scenic locations.

Get together for Easter Fun on the Farm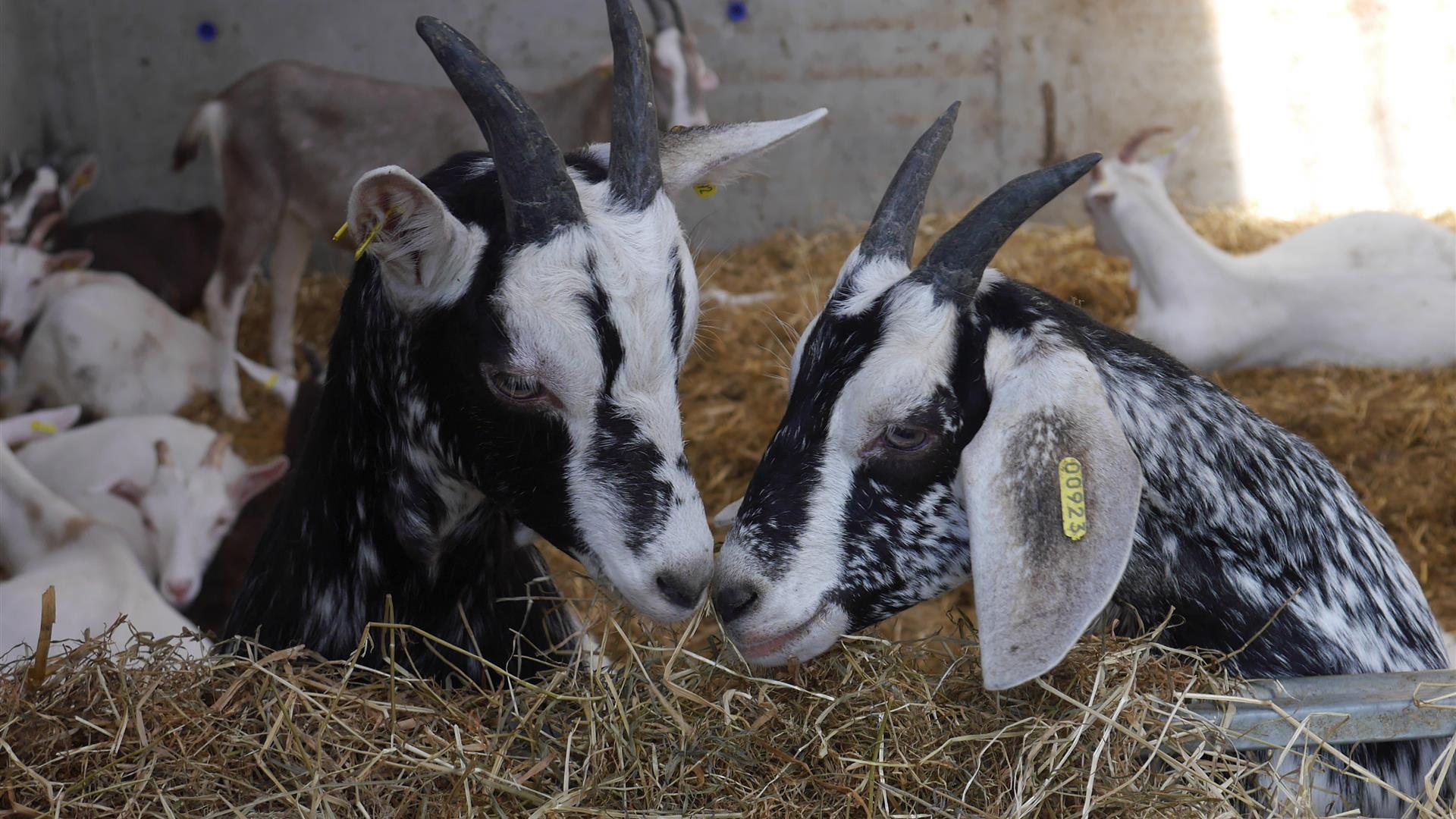 Head to Broughgammon Farm, located just a short distance from Ballycastle, for an unforgettable Easter experience. Let your children embark on an exciting Easter Egg Scavenger Hunt around the farm, taking in the sights of the orchard, polytunnels, and beehives along the way. Keep your eyes peeled for a visit from the Easter Bunny! Afterward, get creative with eco-friendly, seasonal crafts in the converted barn, and make your way down to the farm barn to meet some adorable baby chicks, goats, and calves. End the day with a relaxing break at the farm café, where you can indulge in some delicious homemade sweet treats or a piping hot chocolate topped with fluffy marshmallows.

Pack up your picnic basket for an Alpaca Trek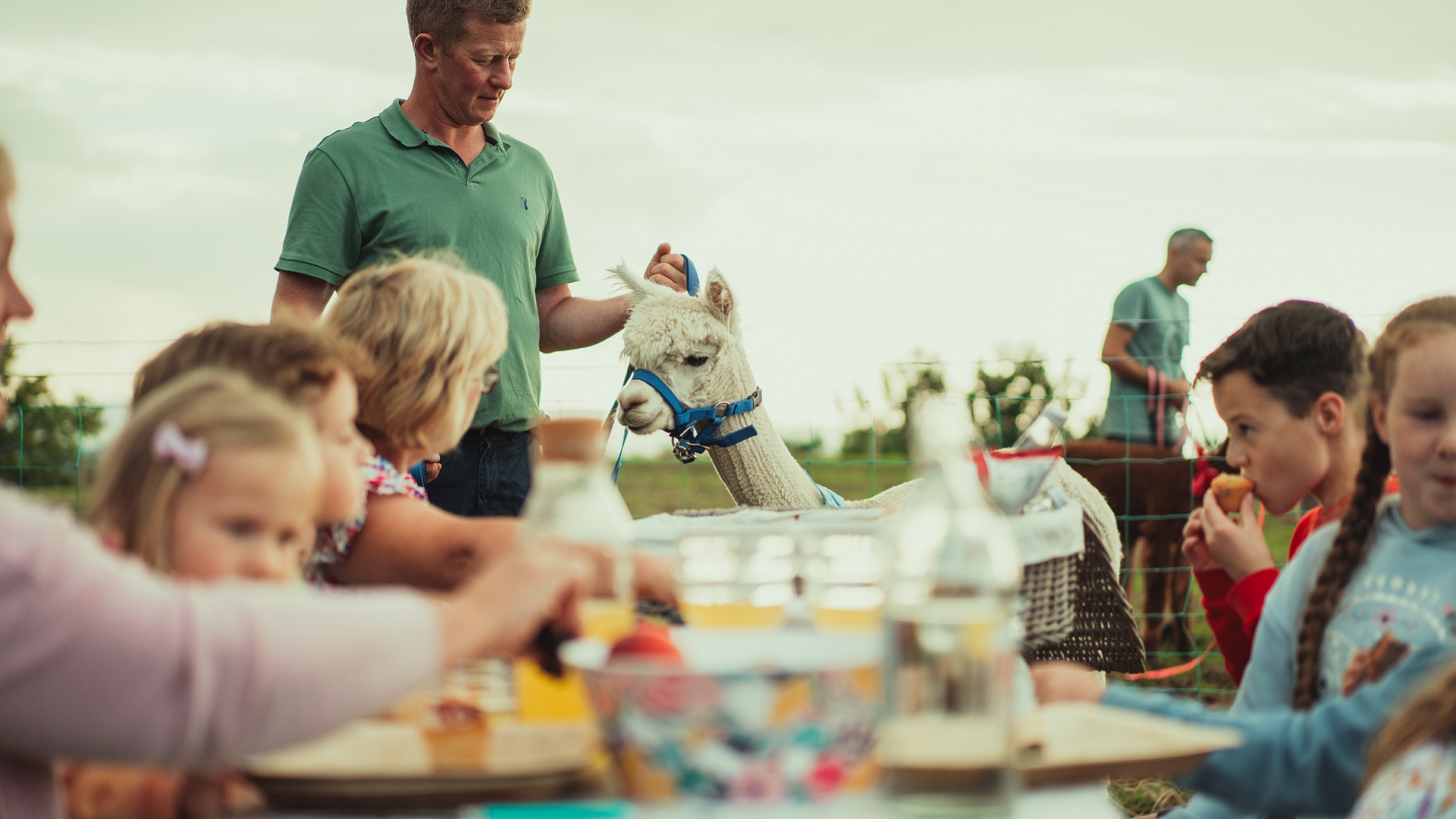 This Easter, get ready for a unique and adorable experience with North Coast Alpacas - an Alpaca Picnic! Take in breathtaking views of the mountains, sea, and iconic landmarks like Mussenden Temple, all while enjoying a lovely picnic surrounded by cute and cuddly alpacas. Feed and interact with the alpacas and snap some memorable pictures with them. Before you leave, don't forget to stop by the "Alpaca Shack" for some alpaca souvenirs and toys to remember your unforgettable adventure.

Make your own Easter Chocolates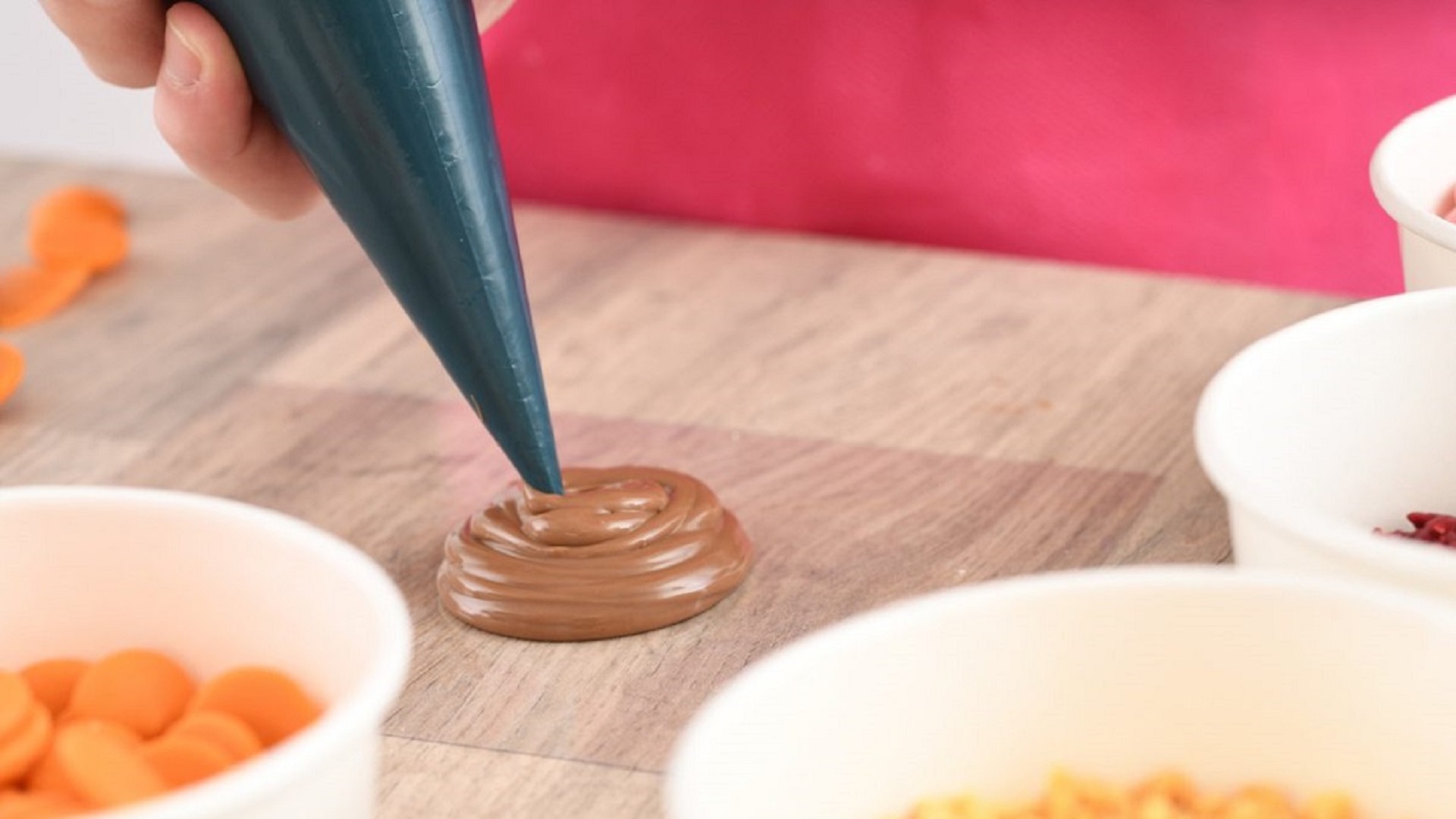 Head to The Chocolate Manor in the Causeway Coastal Route's scenic seaside village of Castlerock, where Master Chocolatier, Geri, will guide you through this eggs-citing 90-minute Easter Family Experience. You will make a tantalising and tasty selection of Easter themed chocolates, which you will take home with you, having learned the basics of tempering chocolate. Savour a hot chocolate while your creations set and then package them up to take home and enjoy! Please note this can be a wonderfully messy experience, so don't wear that new dress!

Enjoy the views on a horseback ride at Downhill Beach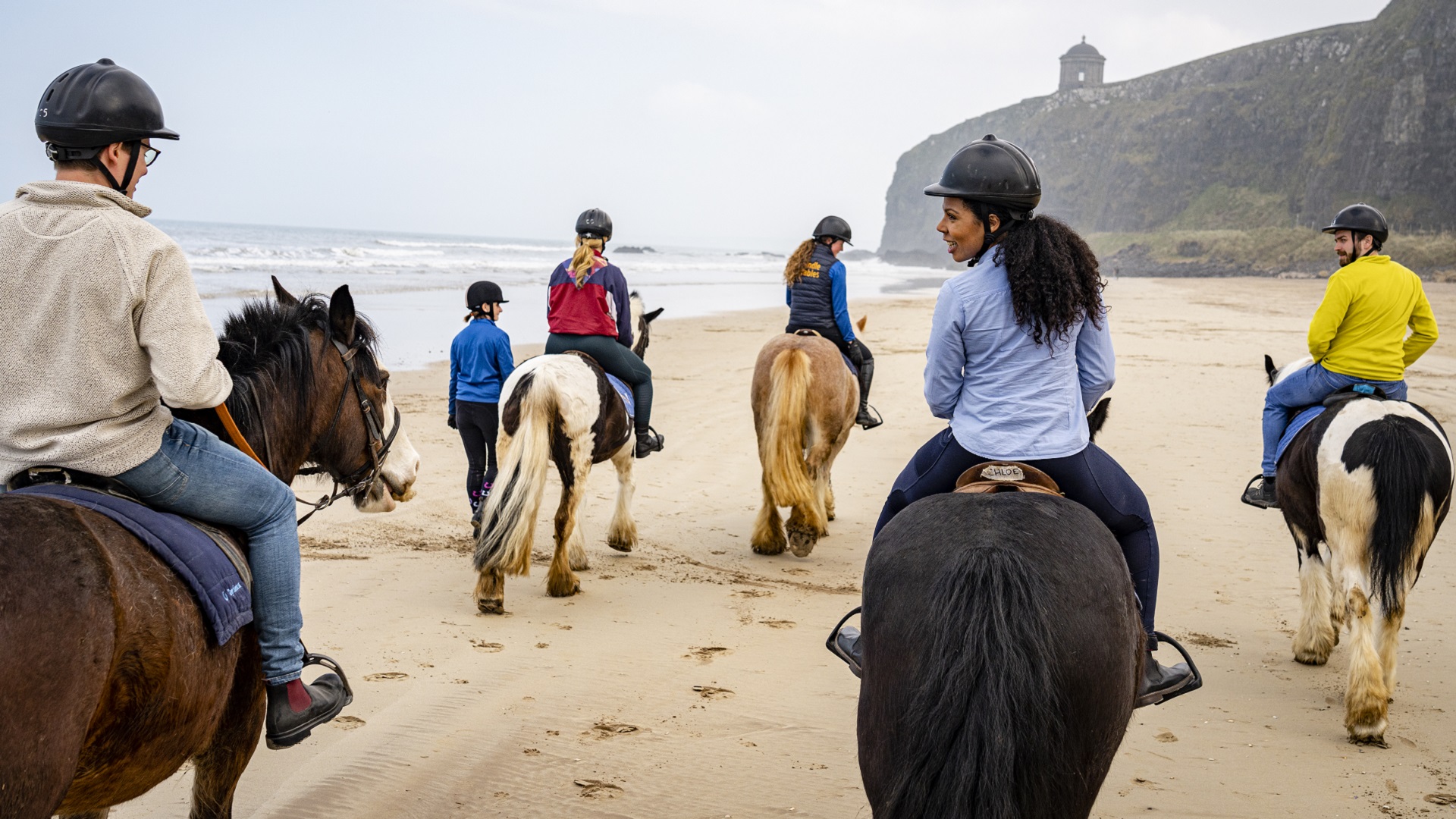 Crindle Stables is situated beneath the stunning surrounds of Binevenagh, an Area of Outstanding Natural Beauty in the Causeway Coast and Glens. This Easter, they've got plenty of activities and fun days out available to keep everyone entertained over the break. Choose from a scenic beach ride at Downhill, a trek through the countryside, or horse grooming experiences and egg hunts at the stables.

Adrenaline, action and adventure at Carrowmena Activity Centre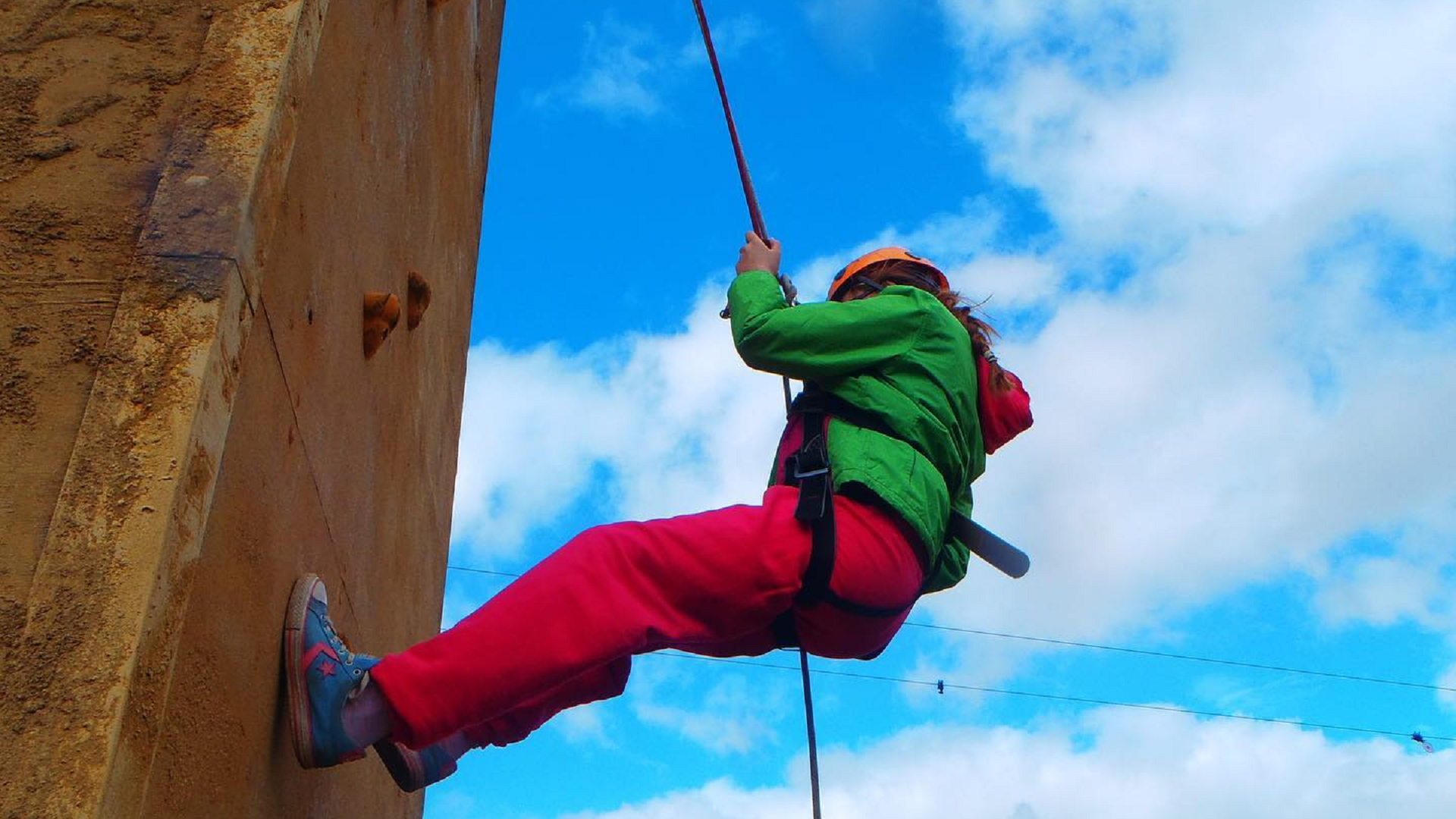 Take your family on an exciting outdoor adventure at the foot of Binevenagh mountain, where you can challenge yourselves to a 20ft climbing wall, zoom through the air on a thrilling zip line, and test your aim with archery target practice. For a full outdoor experience, glamping and Bell Tent accommodations are available on site. Stay in the heart of this Area of Outstanding Natural Beauty and make the most of your Easter break in the great outdoors.

Get competitive at Limitless Adventure Centre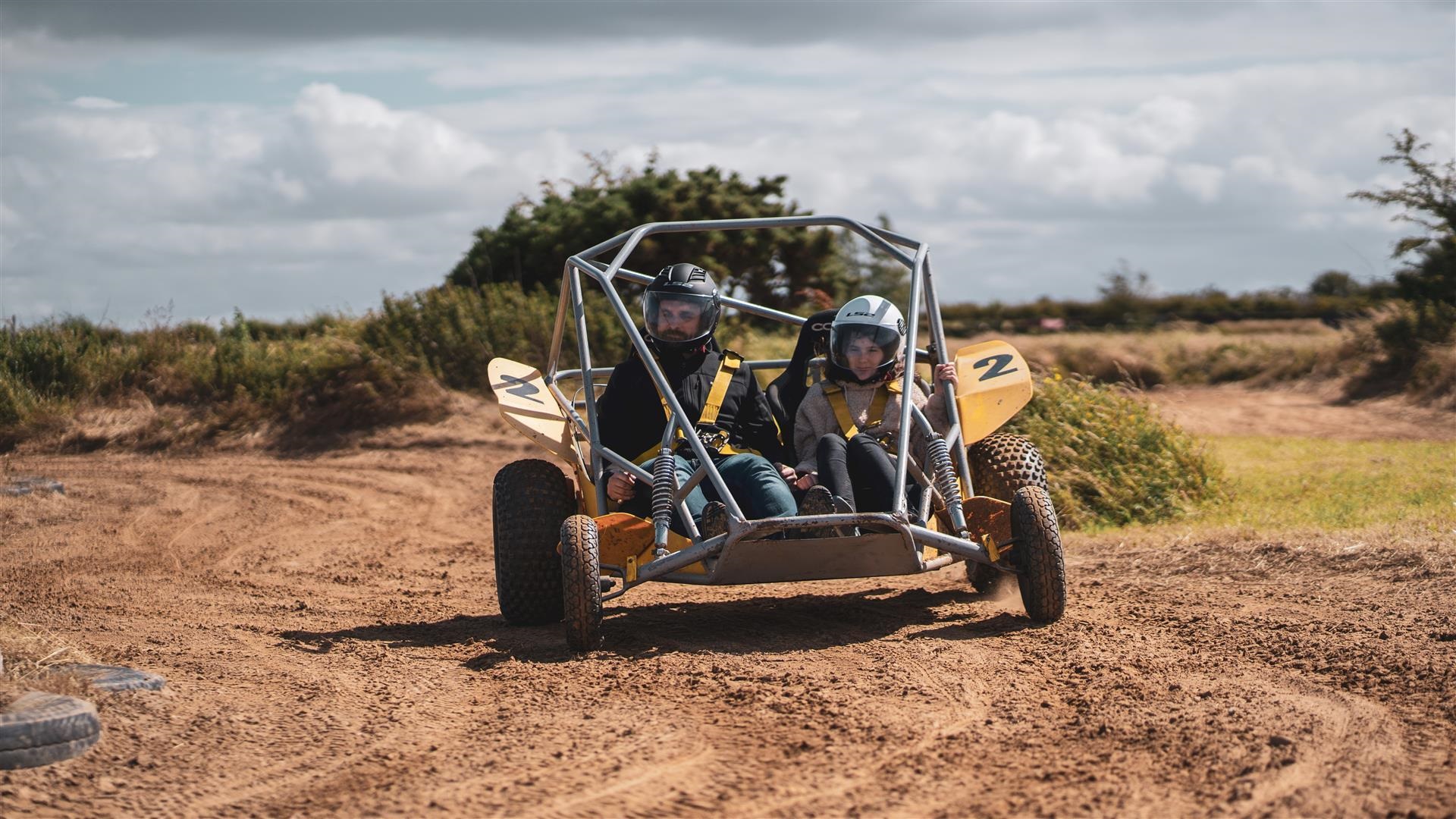 In addition to exhilarating hovercraft rides, Limitless in Limavady also offers an array of exciting activities for the whole family. Try your hand at power-turn buggies, test your aim with archery, engage in a thrilling game of laser tag, or take on the challenge of football golf, all under the guidance of experienced instructors.

Explore the natural surroundings of the Causeway Coast and Glens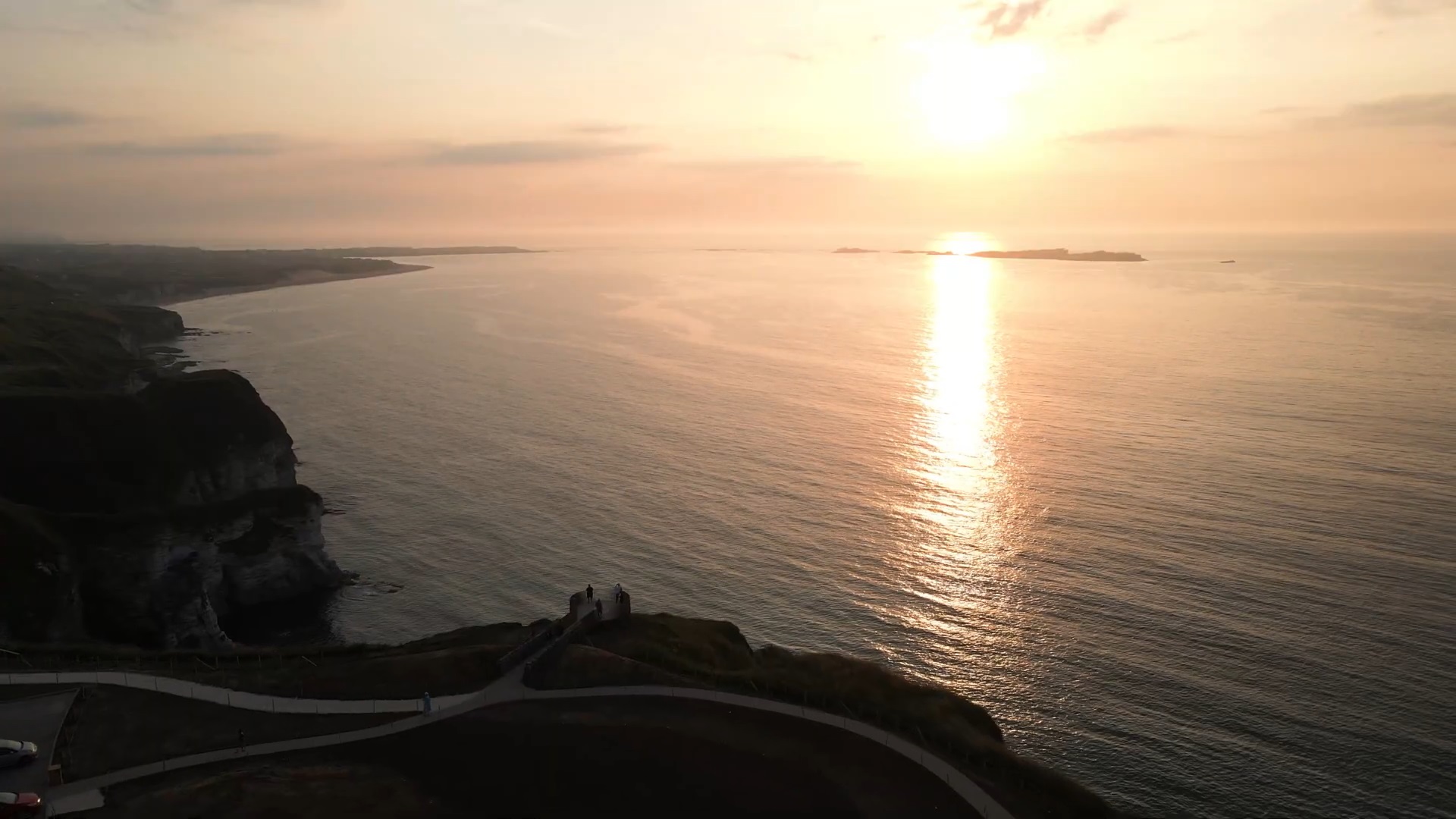 Indulge in the beauty of nature with your family this Easter and explore the many options that the Causeway Coast and Glens have to offer. From sandy Blue Flag beaches to lush forests and winding woodland trails, the variety of stunning nature spots are endless. Chase waterfalls at Glenariff Forest Park, and catch sunrises and sunsets from the Magheracross and Portaneevy viewing points, which offer magnificent vistas and the perfect backdrop for that Easter family selfie.

Stock up on local favourites at the Naturally North Coast and Glens Artisan Market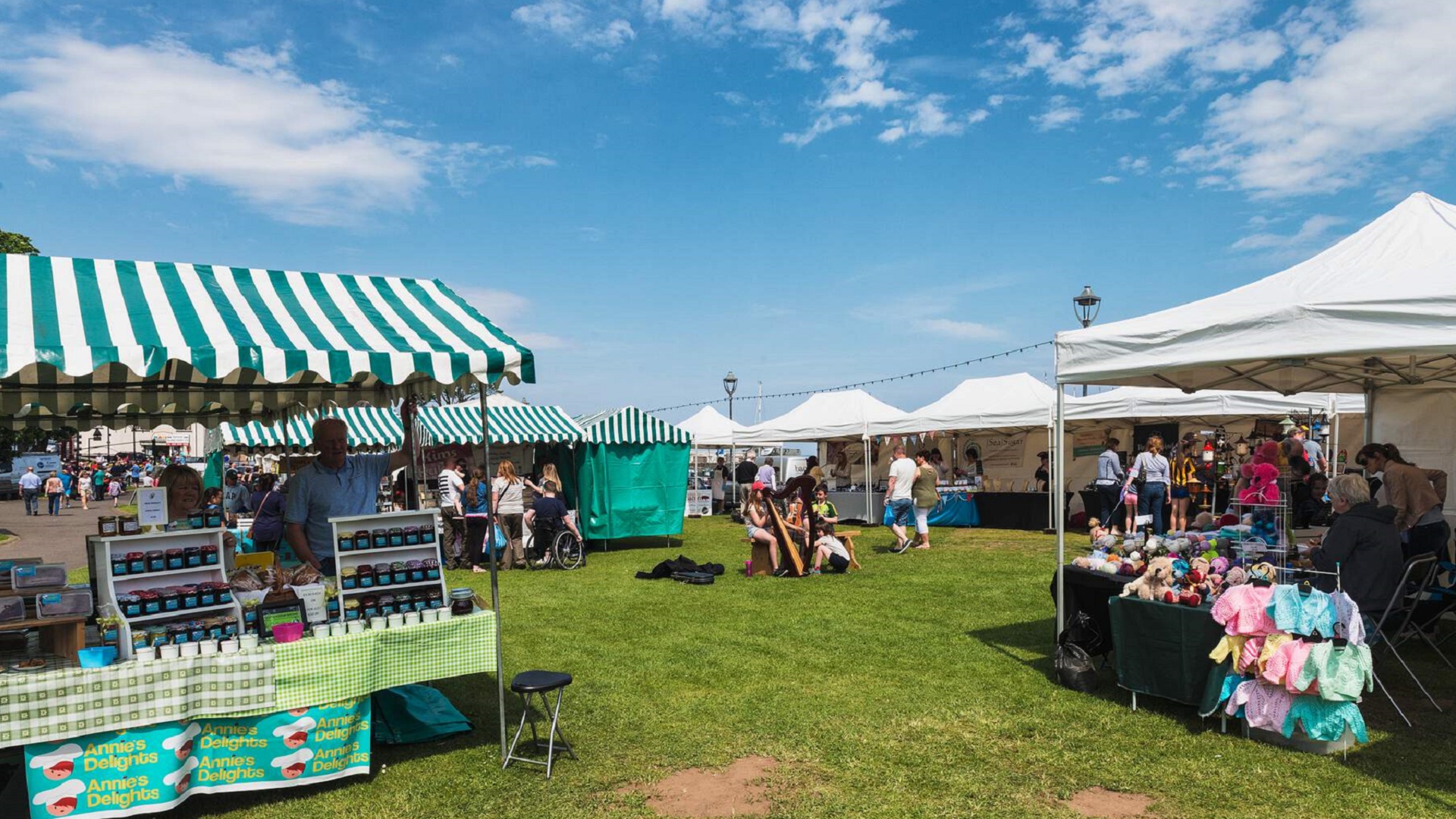 On Easter Monday, head over to Ballycastle Seafront and explore the diverse selection of local food and craft vendors. Sample local produce, and marvel at the talent of our local artists. Afterward, take a leisurely walk on the nearby Ballycastle Beach and explore the quaint town of Ballycastle, filled with independent shops, restaurants, and coffee shops.

Swing by the Causeway Speciality Market
If you're in the Coleraine area on Easter Saturday, you can enjoy the buzzing atmosphere of the Causeway Speciality Market, featuring over 45 stalls of locally-made artisanal food and drink products, seasonal produce, unique crafts, and local art. The market stalls offer a perfect spot to browse and shop, while soaking up the vibrant energy of the bustling market.

Settle down for the night in a spacious family room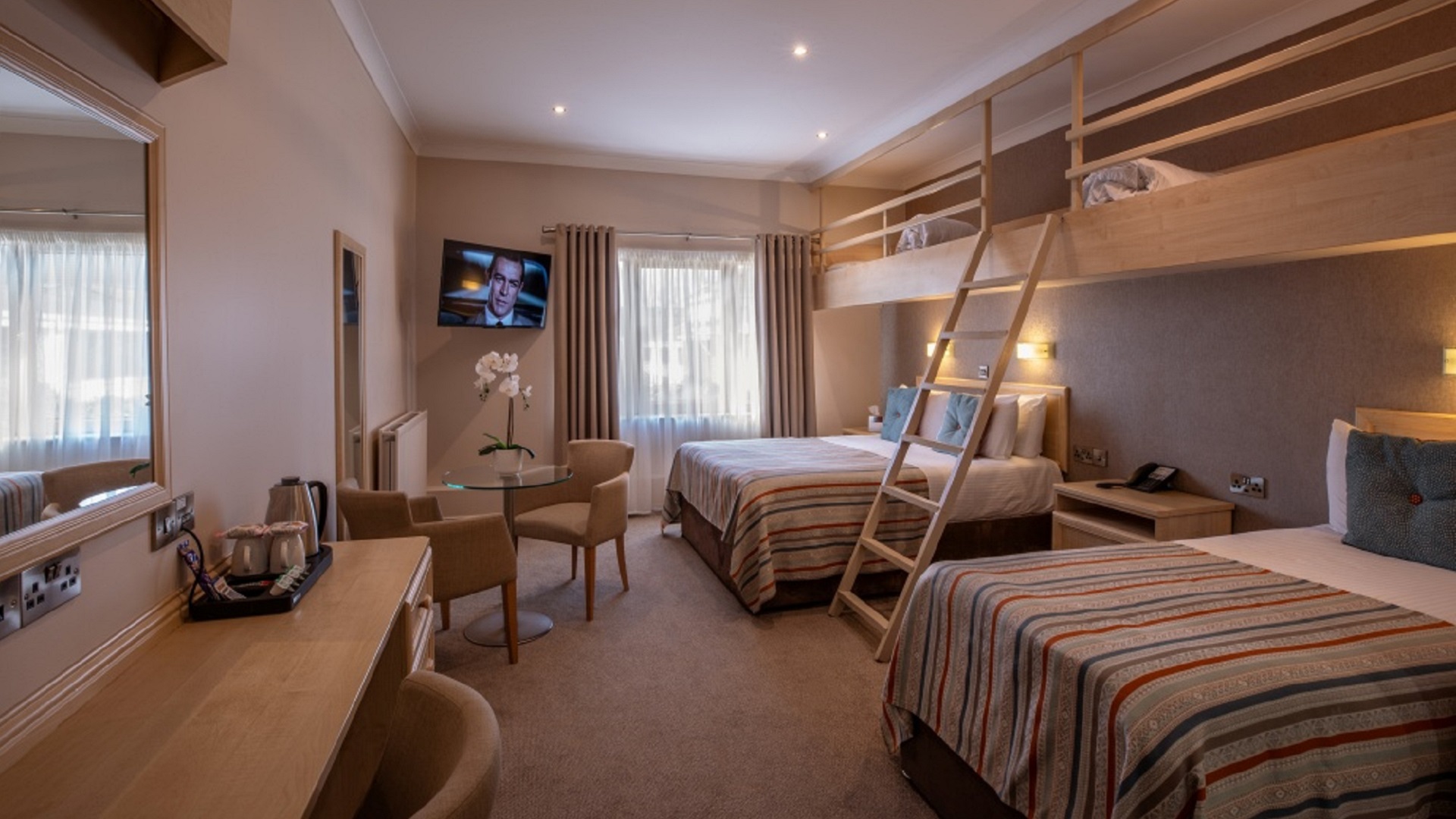 Family room at The Lodge Hotel, Coleraine
At the end of your fun filled days, get the family settled in to one of the superb places to stay here, there are plenty of comfortable options available in the Causeway Coast and Glens. Choose from hotels, B&Bs, self-catering properties, or even glamping pods, where a warm welcome awaits you on your Easter break.

As you can see, there's an endless number of things to see and do this Easter in the Causeway Coast and Glens, and endless memories to be made. So, why not plan a short Easter break for the whole family? We can't wait to welcome you! Be sure to get in touch with our Visitor Information Centres if you need any assistance in planning your trip or booking your accommodation. Will you be joining us?