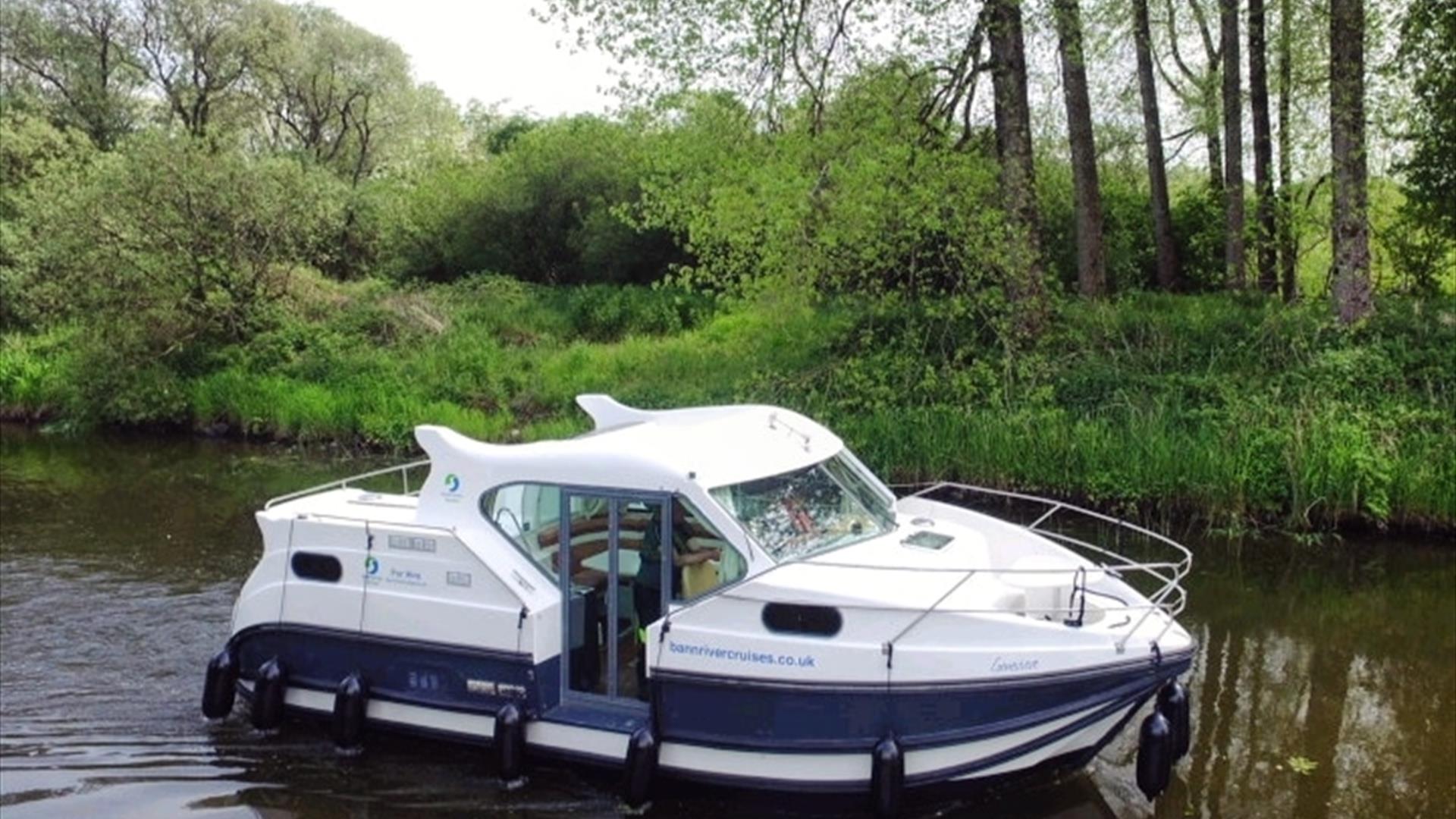 About
How well do you know the River Bann? Perhaps only at a glance as you cross one of the road bridges that span this magnificent stretch of water. Book one of Bann River Cruises' vessels and explore from Toomebridge down to the Cranagh at Coleraine while enjoying and exploring the great outdoors.
With many people seeking interesting ideas for staycations across Ireland, there's no better way to get outdoors and explore Mid-Ulster & the North West from Coleraine to Toomebridge than taking to the Bann River with your friends or family, The hard part is deciding who gets to be the captain and take the wheel.
It is a self-drive experience rather than a chartered boat trip. If you would feel a little out of your comfort zone having never navigated a cruiser before, be assured that full driver and crew training is provided and you'll be a seasoned skipper in no time! Plus you can rest assured since there's always a friendly voice at the other end of the two way radio to answer any queries you may have. The lock gates along the river are also manned, so help is always on hand if you need it.
Taking the helm, you can enjoy your holiday at your own pace, taking in the picturesque riverscape and landscape as you cruise along and keep an eye out for the occasional kingfisher. Keep your camera to hand, as you cruise sections of the river for the first time to create memories which you can share with friends on social media.
The River Bann is one of Ireland's largest rivers and its name in Irish, An Bhanna, means 'the goddess', a fitting name considering the picturesque scenery along the river banks and the rich cultural heritage and native wildlife of the region.
There are a number of jetties along the river if you would like to get off and explore the river bank and some are within easy walking distance of shops, cafes and fun activities so you are not tied to the galley. The hospitality to be experienced as you cruise through the market towns of Kilrea and Portglenone is not to be missed. Don't forget the built heritage of the river too, from its bridges, to the lock gates, and of course The Cutts.
It might be your maiden voyage on the River Bann, but did you know that Mountsandel is the earliest known Mesolithic (Middle Stone Age) settlement in Ireland? You can moor and disembark at Mounstandel, take a walk around and try to imagine life back then. Onsite interpretation will aid your voyage of discovery. Take advantage of the many established walks and cycles along route, holiday at your own pace onboard one of our fully licenced, well equipped modern vessels.
There are 3 sizes of cruiser available, each containing a fully fitted kitchen, bathrooms and comfortable bedrooms with linen and towels provided and can sleep between 2 and 8 people depending on vessel.